AXIMA Market Newsletter - March 2021
Welcome to the March Market Update. 
In previous years we could normally expect a slowing of activity immediately after Lunar New Year, but this year the world is still in catch-up mode due to the COVID-19 pandemic. Manufacturers are working to clear a backlog of orders, shipping lines are still tight on space and consequently shippers are jostling to obtain space.
While planning shipping in advance has always been wise, conditions for the foreseeable future mean a deeper look at the entirety of supply chain planning is advisable. Other factors are also having an impact, including what looks like a long-term shift of market power to the shipping lines who hold many of the aces when it comes to pricing.
Globally, congestion is being experienced at almost all key import-export destinations which are impacting timeframes. In addition, the equipment shortage is also reaching a critical level, and this too is causing additional costs, delays and frustration.
The shocks to trade experienced due to the COVID-19 pandemic have revealed some of the major vulnerabilities in world supply chains. The whole topic of supply chain risks and vulnerabilities for Australian shippers and the national economy is now the subject of a Productivity Commission inquiry.  We will explain more about the Inquiry in the final part of this update.
An Inquiry, while welcome, will not immediately alter the challenges of the current scenario. This means it is vital to stay in regular contact with your Client Service Specialist or Key Account Manager about your shipping needs and production planning so we can develop forward-looking solutions to support your supply chain.
North Asia
The Year of the Ox has begun with an unusually high level of activity, where instead of the usual softening after peak season, the shipping lines are reporting their services are full. The Asia to Europe and Asia to USA routes are reported to be experiencing major backlogs of freight and vessels are fully booked. While some specific trade lanes may have had some excess space the shipping lines have introduced Blank Sailings to keep utilisation at capacity and also maintain the current high rates. The balance of power remains firmly on the side of the shipping lines when it comes to pricing and space availability.
A GRI ex North Asia will be implemented on 1 March 2021. This GRI will be carrier-specific however, it is advertised to be USD 300 per TEU and USD 12 per cbm for LCL. We expect this will pass due to the high level of activity after the Lunar New Year holiday.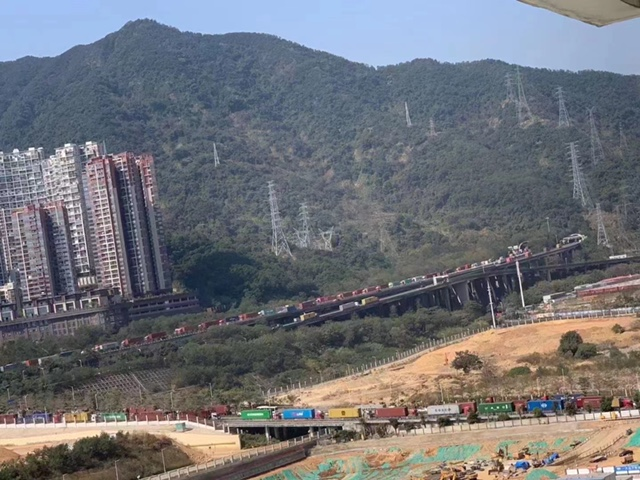 Equipment issues continue to cause a major headache. Prior to Lunar New Year trucks collecting containers were waiting up to two nights on the road before they could pick up empty containers. The photo of the 5km line of trucks waiting to reach the port of Shenzhen and collect equipment shows just how serious the situation has become.
We strongly recommend looking ahead as far as possible and ideally providing your Client Service Specialist or Key Account Manager with a forecast 6-8 weeks in advance of your target cargo loading date. This will maximise our ability to provide a solution that keeps your supply chain moving. Your AXIMA contact can also advise on strategic approaches for high volume shipping such as planning smaller, more consistent, and frequent shipments as this approach is currently better received by shipping lines.
South East Asia
Major transhipment ports are continuing to experience congestion due to the ongoing spike in demand for space. The shipping lines are expecting this to continue to be the case for the second quarter of 2021. In Colombo, there have been some improvements, but rollovers are still being experienced. Some carriers are reporting rollover-related delays of between two and five weeks. In Bangladesh, the garment industry is struggling but still producing sufficient volumes that space remains tight. A similar situation exists in India with one shipping line advising they are not taking any bookings ex-India until June at this point.
North America
There is no immediate relief in sight in the USA, with the situation both at ports and for landside transport continuing to deteriorate. At the start of February, 40 vessels were at anchor and waiting to berth, with a delay of up to 11 days being spent hovering outside port.
COVID-19 infection rates among wharf employees and equipment congestion due to the volume of containers are both causing significant landside delays. A flow-on effect has been additional charges of Pre-Pull demurrage charges as well as additional waiting time.
Cargo moving within the USA is also encountering obstacles in reaching export gateways. The pandemic is causing driver shortages and severe weather events are also adding to the difficulties. Due to severe winter storms in February, transit systems across the country from Texas through to the North East of the USA were severely impacted by road closures. The deep freeze has also resulted in multiple fatalities. Rail has also been affected with Los Angeles/Long Beach closing their inward gate for 72 hours due to the severe weather across the country. You can see a live Webcam from the port of LA here. 
This combination of adverse effects has resulted in a backlog of shipments and Container Freight Stations are doing their utmost to alleviate the situation. That said, the shipping lines do expect the situation in North America will remain difficult for the second Quarter of 2021.
With limited space comes high pricing, and a Rate Restoration of USD 200 per TEU has been announced effective 15 March 2021 and a rise of USD 8 per cbm, for LCL. This will almost certainly be implemented. Another GRI has also been announced for 1 April of USD 200 per TEU and USD 8 per cbm for LCL to Australia and New Zealand.
Europe and the UK
The level of difficulty for shipping ex-Europe and the UK remains extremely high due to the equipment shortage, with the trade lane ex Europe to Australia now labeled a 'dead end'. Congestion at transhipment ports is delaying container arrivals, turning the trade lane into a long transit and a dead-end for containers.
In Europe, there are some positive notes, with ports such as Rotterdam and Antwerp having smoother operations landside than was the case in previous months. Overall, however, port congestion is problematic, and in the UK, ports are very much struggling.
As a result, shipping lines are still changing their ports of call to reduce waiting times for berthing, which adds an element of unpredictability. Shipping lines have also extended the FE4 Loop suspensions and blank sailings are also being scheduled throughout Q3.
A Peak Season Surcharge (PSS) has been announced effective 1 March of USD 200 per TEU and for LCL, USD 8.00 per cbm. Not all shipping lines are implementing a GRI out of Europe at this point, but for those that have announced one, we expect it will be implemented in full. We expect the other shipping lines will follow suit and announce a PSS by end of July 2021.
New Zealand
The market in New Zealand remains steady. The only major news to take note of is the New Zealand Ministry for Primary industries (MPI) has introduced a new quarantine declaration format for all Full Container Load (FCL) containers arriving in New Zealand on or after 1 February 2021. The form, which is titled SEA CONTAINER QUARANTINE DECLARATION is now available from the MPI Website and can be found here. 
Please contact your Client Service Specialist or Key Account Manager if you require any advice or assistance with this new paperwork.
Australia Ports
Australia is not immune from the congestion and delays affecting global shipping. Many ports continue to experience challenges and the equipment shortage remains a serious problem. 
In Melbourne, significant port congestion remains with minimal slots available for container cartage. DP world has advised they have 11 vessels due in the next 7 days which will make the situation even worse. To minimise the impact for our clients from the congestion and minimal slots, our team will be working over the weekend.
In Sydney, Patrick Terminal is operating with a delay of several days as operations catch up following recent adverse weather conditions and industrial action.
Costs are going up, with Infrastructure fees and some Vehicle Booking fees increasing again in March 2021. Patricks Terminals and Hutchison are increasing Landside and Ancillary charges effective 1 March 2021 and Air Terminals are increasing their international Terminal Fees also as of 1 March 2021. We do note that with less freight arriving at airports, this higher price rise than the usual 0.02c annual increase is not surprising. It remains a carrier's market and this will be the case for many months to come.
Dealing with Empty Containers
Empty container parks in Australia are still at capacity which is limiting the ability to dehire containers and contributing to delays and congestion. It is crucially important we all play our part in managing empty container returns, so we are asking all AXIMA customers to please send all empty container notifications to emptycontainers@axima.com.au
 The transport providers have provided details of the following time allowances from notification to collection of empty containers:
• For notifications received before 12pm for Melbourne / Sydney / Adelaide / Brisbane / Darwin / Tasmania – Collection will take place within 48hrs (Business days only) 
• For notifications received before 12 pm for Perth - Collection will take place within 72 hrs (Business days only) 
If you require an urgent collection of empty containers – for example, it is blocking access to your facility – contact your Client Service Specialist so they can work with you to develop an urgent solution.
Industrial action update
The Australian shipping sector narrowly averted further disruption due to industrial action with the Maritime Union of Australia (MUA) recently announcing aggressive Protected Industrial Actions covering a work ban and stoppage for the Victoria International Container Terminal (VICT). This was averted following a complaint to the Fair Work Commission (FWC). An Interim Order was issued suspending industrial action by the MUA effective from Saturday, 20 February until a mid-March FWC hearing.
Supply Chain Inquiry
The entire economy relies on effective and timely supply chains. Currently, around 98 percent of Australia's trade passes through our ports and thousands of jobs rely on ports moving shipments in a timely and cost-effective manner. Industry associations including International Forwarders and Customs Brokers Association of Australia (IFCBAA), and the Container Transport Association Australia (CTAA) have been calling for intervention to reform the system so it works as it should.
Some supply chains are more vulnerable than others, which is why the Productivity Commission is now holding an Inquiry. Terms of Reference for the Inquiry were released on 19 February 2021. It will be examining the types of risks that exist in terms of global supply chains and the source of those risks. The goal is to develop a framework for identifying vulnerable supply chains, specific imported goods that are particularly at risk of disruption and possible strategies for managing supply chain risks.
A media release from the Federal Treasurer, John Frydenberg, also stated the Inquiry will also look at "longer term trends in relation to Australia's linkages and dependencies with respect to international trade and assess whether vulnerabilities or opportunities exist."
Consultation is being undertaken and an Interim Report on Australia's role as an importer is expected to be delivered to the Government in March 2021. A second and final report on the nation's role as an exporter is due to be delivered in May 2021.
"Australia's supply chains proved resilient in response to the COVID-19 pandemic, but the experience with COVID-19 has highlighted Australia's potential vulnerability to global supply chain disruption," Mr Frydenberg stated.
You can learn more about the Inquiry here.
The scope of the Inquiry is a salutary reminder of the importance of not taking a "set and forget" approach to supply chain planning. Events of the past 18 months have shown that disruption comes in many forms and can occur with little forewarning. Flexibility matters but even more, supply chain forecasting and understanding the flow of shipping through your supply chain in relation to your business demand projections is key. 
As part of delivering supply chain success to our clients, we have always advised that booking early and securing space in advance is advisable. In this changed shipping world, it is wise to take that one step further and be extremely strategic in your supply chain management. 
AXIMA is always here to help. Your Client Service Specialist or Key Account Manager is only ever a phone call or an email away and can assist you with developing resilient and cost-effective shipping strategies that help support forward planning. 
Stay well,
Matt Ward
COO International – YKGA
AXIMA PTY LTD
www.axima.com.au