How does working with an Australia Trusted Trader
---
Australian Trusted Trader
.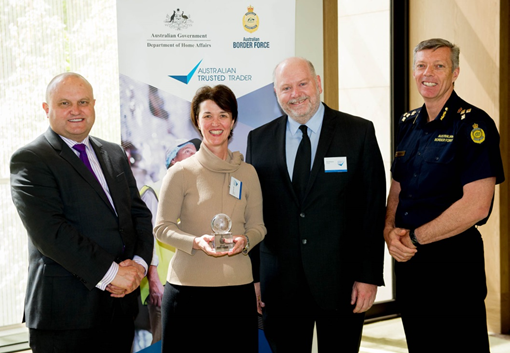 Delivering supply chain success
.
---
How does working with an Australia Trusted Trader help your business?

Earlier in 2019, 3PL and freight forwarding provider AXIMA Logistics received Australian Trusted Trader (ATT) accreditation. Last week I sat down with Gary Brasher, AXIMA Logistics National Customs Manager to learn more about the program and how being accredited benefits us and our clients. Gary has supported clients at AXIMA for over 30 years to improve their Customs and Quarantine compliance, maximise the use of free trade agreements Australia has in place and to reduce duty payable. Every day, supported by a team of specialised Customs Brokers, Gary simplifies the complex for AXIMA's 3PL and freight forwarding clients in Sydney, Melbourne, Brisbane and Perth.

• Gary, thanks for taking the time to speak with me. First off, would you please share some information on what the Australian Trusted Trader program is?

The Australia Trusted Trader program accredits Australian businesses, including importers, exporter and service providers, that can demonstrate a secure international supply chain and appropriate trade compliance. Companies looking to become accredited must prove that their processes and systems, both physical and documentary, are of high level in terms of compliance. ATT accreditation also shows that their business has a high level of security, from time of ordering through to delivery, and that the goods are being held in a highly secure environment.

• What were the steps involved in AXIMA Logistics to become ATT accredited?
As a first step, we completed the Australian Trusted Trader application. To complete the application required inputs from multiple departments within the businesses including Information Technology (IT), Warehousing, Freight and 3PL Operations, Exports, Customs and Transport. My role in the application process was bringing together all of the relevant information from all departments into the application and managing the steps required to receive our formal accreditation. Being a Customs person, I likely overdid it. We received positive feedback from Border Force on the thoroughness of the AXMA Logistics application.
 
For AXIMA, as we already had thorough and robust systems and highly structured processes in place, we only had to make two small changes to become compliant. At AXIMA, we have always had a focus on creating and utilising structured processes and robust systems as they bring improved service quality to our clients, provide an enhanced customer experience and allow for continual improvement. AXIMA's historical focus on structured processes and systems set us up well for the ATT accreditation process.
 
After the application was submitted, Border Force came to inspect our site, interview our team and audit our systems and processes. On the day of the site inspection, Renee Davis, our National Operations Manager, escorted them around the warehouse and office. Border Force audited our entire business including Operations, Customs, Transport and our 3PL warehouse locations, including our bonded area.
 
The feedback was extremely positive. In particular positive comments from the auditor were given that relate to our highly advanced use of Cargowise 1. Our cargo reporting scores were in the top 2 percentile in the industry, and our Transport department impressed the auditor with their use of service level agreements (SLAs) for all approved transport providers. Similarly, our Customs department was praised for the way they kept records and managed periodic documents. This type of positive feedback is a testament to the way we have always done business at AXIMA. After the inspection and interview, Border Force requested some clarification and requested two small changes. Once we provided the additional information and made the changes, we received our ATT accreditation.

•What does being an ATT accredited freight forwarder show about AXIMA Logistics?
Australian Trusted Trader accreditation shows to the outside world through the use of the ATT logo that we have been through a thorough process, verified by the government, and that our systems, processes, physical and documentary have been through a microscope that we are secure. It provides confidence to anyone that uses AXIMA that their goods will be secure while under our control. It shows that our processes and systems are over and above the requirements of the Customs Act.

• How does being ATT accredited assist AXIMA in delivering supply chain success to clients?
Sometimes there are small glitches in government systems that are out of our control, which mean cargo is delayed or stops flowing. Whether it is a shipment that has been identified through a profile and has not moved through the process or any other issue, these glitches can hold cargo up. When glitches happen non-accredited freight forwarders and 3PL providers, which is the majority of freight forwarders and 3PL providers in Australia, can only contact the Department by emailing a help desk with a standard response time of 10 working days.

Now that we have ATT accreditation, we have an ABF Account Manager that we can ring. Having an ABF Account Manager speeds up the process for us to learn where things are up to and what needs to happen to get the cargo moving again so we can take action. For AXIMA Logistics and our clients, having a direct line into the Department to an ABF Account Manager that knows our clients and us, is a much-improved communication process that helps us deliver supply chain success to our clients.

• Can you share an example of how ATT accreditation helped an AXIMA client?
Yes. There is a shipper profile that we are aware of that if you start with a new freight forwarder or 3PL provider, the first few shipments will be held and x-rayed. This happens as sometimes criminals will use the name of a reputable importer and try and run some containers through with non-declared goods, such as cigarettes, alcohol or firearms. Now that we have access to an ABF Account Manager that knows us, we can tell them that a new client has chosen AXIMA which provides them with advance notice that we will manage new shipments. This can help to keep their first shipments flowing smoothly.

• What are the benefits for importers to become accredited themselves?
The Australian Trusted Trader program offers many benefits for importers, including:
ABF Account Manager

Priority Trade Services

China-Australia Free Trade Agreement Origin Advance Rulings

A seat at the table to provide inputs on how the program is working and enhancements

Duty Deferral for up to 30 days (for GST deferred ABN's)

Priority treatment

Temporary Skill Shortage Visa s 482

Use of the ATT logo

Asia-Pacific Economic Cooperation Business Travel Card

Consolidated Cargo Clearance

A Monthly Report

Origin Waiver

•What are the benefits for exporters to become accredited themselves?
Exporters receive all of the above benefits excluding China-Australia Free Trade Agreement Origin Advance Ruling, Duty Deferral, Consolidated Cargo Clearance and Origin Waver. But one specific benefit exporters receive is Mutual Recognition Arrangements (MRAs) with other countries. This is a real benefit to companies that regularly export. Where Australia has an MRA in place, ATT accredited businesses' goods will receive priority treatment at the border of the MRA country. This means faster processing of your shipments and this brings confidence, predictability and speed to market. If you are an exporter with regular volume, it is likely worth evaluating becoming ATT accredited to streamline your export process. Currently, Australia has signed MRAs with Canada, China, Hong Kong, Japan, Korea, Taiwan and Singapore.

•How can AXIMA assist importers and exporters with their accreditation process?
Two of our larger clients are currently in the process of becoming ATT accredited. With both of these clients, we shared knowledge of the process and provided supporting documentation to streamline their accreditation process. Further, as we are an accredited as a service provider, it makes the application easier as we have already proven the security of our business and the client's supply chain while under our management.
Gary, I appreciate you taking the time answer some questions on the ATT program. It sounds like the program has real benefits for some Australia businesses. To learn more about the ATT program, follow this link to the Australian Border Force website. AXIMA Logistics, a Yang Kee Company, provides end-to-end freight forwarding and 3PL services, specialised expertise and a high level of caring personalized services to companies like yours. We have the operational capacity to maximise value and efficiency which delivers supply chain success to your business, helping you grown and increase your return on investment (ROI).
 
If you have specific questions on the ATT program or how AXIMA can support your business with supply chain services, please reach out to us on marketingteam@axima.com.au or give us a call on 03 8368 5300.

Scott Brunelle
National Marketing Manager